MURIYA CELEBRATES 10 YEARS OF ROCK-SOLID SUCCESS IN OMAN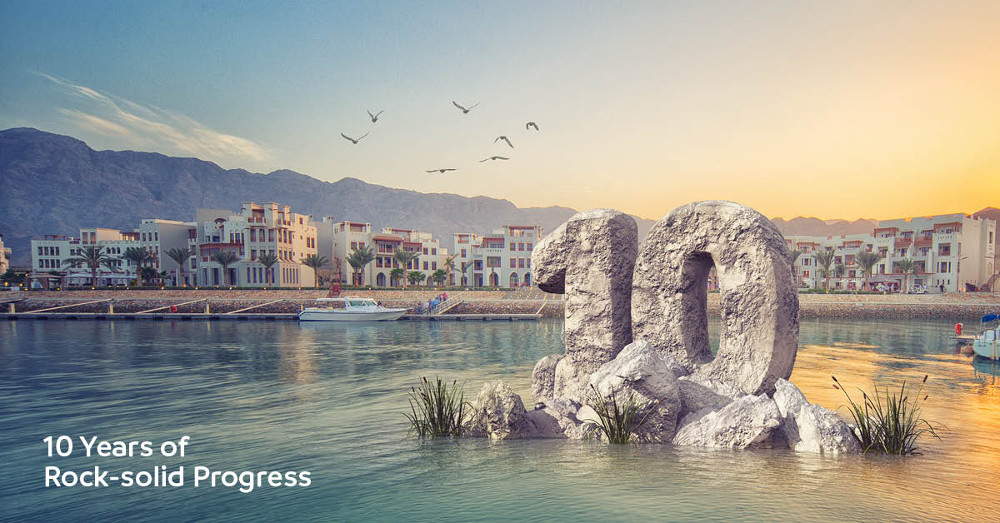 * $650 million invested in hotel and tourism infrastructure
* 1,000 hotel rooms completed in 5 years
* 1,100 direct and indirect jobs created
* Launched first-of-its-kind Hawana Aqua Park and eco-friendly Souly Lodge


Salalah, January 10th 2018 – Muriya, a joint venture between Orascom Development Holding (ODH) and Oman Tourism Development Company (OMRAN), celebrated a decade of growth and rock-solid success in the Sultanate's tourism, real estate and leisure sectors. Commemorating its strong partnership with the Ministry of Tourism, the most diversified developer in Oman highlighted its long list of achievements during a celebration event of its 10th anniversary in the Sultanate.

The celebration coincided with the opening of the state-of-the-art Hawana Aquapark and eco-friendly Souly Lodge, as well as the addition of 120 rooms to the Fanar Hotel & Residences and Salalah Rotana Resort. To date, Muriya has invested more than $650 million, delivered 1,000 hotel rooms, and provided 1,100 direct and indirect jobs. In 2017 alone, the company hosted a total of 420,000 hotel guest nights within its Hawana Salalah and Jebel Sifah destinations.

Samih Sawiris, Chairman of Orascom Holding Development, said, "The strategic partnership between Orascom Development Holding and OMRAN has been essential to fulfilling Muriya's vision of contributing to Oman's development. Despite the challenging global economic climate, we believe in the future of Oman and its potential as a lucrative international year-round tourist destination. Our firm belief in this collaboration was the inspiration behind the $650 million invested in building thriving touristic towns, sustainable infrastructure, premium four and five-star hotels with 1,000 hotel rooms to date, freehold properties, Salalah's first aqua park, high quality marinas and a golf course. We will continue investing to build more real estate properties and hotels, as we plan to add 300 hotel rooms to our portfolio by end of 2019."

Sawiris, added, "Today, we celebrate a decade-long of milestones achieved by Muriya in the real estate, hospitality and leisure sectors. An active ten years saw our partnership with the Ministry of Tourism flourish as we succeeded in bringing foreign direct investment from around the world, and contributed to elevate Oman's status as the region's fastest growing tourist destination."

Peter Walichnowski, CEO of OMRAN, said, "As the leading executive government arm for tourism development, OMRAN's objective has been to strategically develop new destinations and experiences that will benefit the social and economic growth of the Sultanate, in line with Oman's efforts to diversify the economy. Our collaboration with Orascom successfully paved the way to pursue that goal together, driving the development of Oman's unique tourism sector, offering a way that is sustainable and preserves nature, culture, and communities, while delivering economic benefits."
Marhoon bin Said bin Mubark Al Amri, Director General of Tourism, said, "We have worked diligently as part of Oman's vision 2040 and Tanfeedh to build a sustainable tourism sector. For the past 10 years, Muriya has been a strong partner contributing to that vision. They have been supporting our efforts in penetrating new source markets, while adding and improving tourism infrastructure to cater to the Governorate of Dhofar's residents and visitors alike. We look forward to continue working hand-in-hand to offer a unique value proposition to Oman's tourism sector."

The completion of 1,000 hotel rooms in five years was a natural progression of Muriya's continuous efforts to actively promote the Sultanate as a year-round tourist destination. Its shareholders ODH and OMRAN reiterated their commitment towards that goal, with its destinations set to cement its role as the private sector's largest contributor to hotel development. This includes building an additional 300 hotel rooms by 2019, and continue delivering on its master plan to support the Ministry of Tourism's strategic objectives.